Walter Morgan Gosling (1893~1963)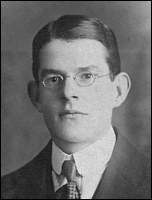 Walter Morgan Gosling
Walter Morgan Gosling, the son of George Morgan Gosling and Clara Matilda Wilkins was born in Bristol in 1893. He was a Plumber. He married Harriett Olive Jones (known as 'Dolly'), daughter of John Henry Jones, from Westbury on Severn in 1916.
Harriett died in 1929 in Bristol aged 36.
On the 7th September 1929, having sold his house in Bristol, Walter and his son Harold travelled from Southampton, England to Canada on the 'Montroyal' Canadian Pacific Line arriving at Quebec a week later on the 14th September. As far as we can tell they both intended to emigrate to Canada with the intention of Harold inheriting George and Mabel Hiffernan's farm in the Peace River area of British Columbia at some point in the future. However sometime later Walter decided to return to England (reason unknown) and it is believed that he considered letting Harold stay behind but when the time came to actually go he couldn't bear to leave him. And so they both returned to England travelling on the 'Duchess of York' Canadian Pacific Line arriving at Liverpool on the 29th November 1929.
On his return to England he married Lilian Dorothea Moon in 1930 in Bristol.
Walter died on the 13th August 1963 at Ham Green Hospital, Easton-in-Gordano, Bristol. Probate records show his address as 11 Royston Walk, Southmead, Bristol.