George Morgan Gosling (1850~1900)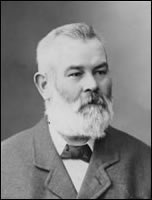 George Morgan Gosling
George Morgan Gosling, the son of Thomas Gosling Jnr and Hannah Tippett was born on the 2nd February 1850 in Wraxall, Somerset and was christened on the 18th March 1850 in Nailsea, Somerset.
In his earlier days he was a member of the Bristol Engineer Corps.
According to George's obituary in the Bristol Mercury & Daily Post (see below) he spent some portion of his life in South Africa and took an active part in the construction of the railway to Kimberley. When he went or exactly what 'took an active part' means we are still unsure, this is still an area for research. However we do know that the railways were started simultaneously from Cape Town, Port Elizabeth and East London towards Kimberley following the discovery of diamonds at Kimberley in 1870 and that the lines were completed around 1885.
He married Matilda Georgina Cowham, the daughter of Samuel Firth Cowham and Mary Ann Chidgey, on the 29th of August 1872 at the Parish Church, Clifton, Bristol.
Matilda Georgina Gosling died in Bristol on the 13th May 1883 aged 32.
On the 12th June 1886 George Morgan Gosling married Clara Matilda Wilkins at the Parish Church in Bristol. The address of George Morgan Gosling at the time of his second marriage was 5 Pembroke Street, Bristol and the marriage certificate states that he was working as a joiner.
* Sidney George and William Arthur Gosling were Twins
Around 1890 George was living and working in Wells, possibly as a builders agent and was involved in the building of the school at Wookey Hole which still stands today. In 1890 there are numerous adverts in the 'Bristol Mercury & Daily Post' for Masons, Carpenters, Scaffolders, Joiners, Bricklayers, Plumbers, Painters, Zinc Workers, Glaziers and labourers giving contact details as 'Apply Mr. Gosling, St.Cuthbert's Paper Mills, Wookey, Wells, Somerset'.
By 1890 George Morgan Gosling & Richard Robert Wilkins were in business together trading as 'Wilkins & Gosling'. They had a contract to erect a new malting building for Bristol United Breweries in Gas Ferry road, schools at Totterdown for the Bristol School Board and the building of several houses in Olveston Road, Bristol.
In 1900 George features in the Bristol Wheelers Gazette which not only pays tribute to him as a keen cyclists but also make reference to him travelling to all parts of the world and spending some years in the 'Transvaal' (South Africa).
MEMBERS OF MARK. - No. 21.
Mr. G. M. Gosling
Taking into consideration the presentation plate in the December, 1899, Gazette, nothing could be more appropriate than to give in this Gazette a plate and record of the other Member of the firm of Messrs. R. B. Wilkins and G. M. Gosling. They represent on the one side energy and speculation, while on the other is discretion and long knowledge; a grand combination. Mr. G. M. Gosling is perhaps not known by so many members as his partner, but those members who have seen Mr. F. Wills have probably seen the subject of this month's presentation plate. This may appear an "Irishism," but the resemblance is so great that they are often mistaken for one another.
Bristol Wheelers Gazette
January 4th 1900
'George the Great,' as he has been called in previous Gazettes, has travelled in all parts of the world, and his conversation is always most interesting when speaking of the various places and people he has seen. The incidents receiving the greatest attention now being 'The Transvaal,' where he resided some years, and has often seen Boers take a white pocket handkerchief and display it as being the British flag. As showing his knowledge of the Boer, he was the first to state that the British soldier was not going to win as easily as expected. 'George' has served as an officer in one of our crack Volunteer Regiments, and his great forte is the Transvaal War Fund, to which he has contributed various sums of money, and he was the originator of our 'Smoking Concert,' which was held on
January 10th, for the same purpose. 'George' has been a cyclist for about nine years, and has always ridden the three wheeler. The first club he joined was the Salisbury C.C., with the members of which he was much respected, and attended many of their runs, several being good distance rides. Taking his age into consideration, and the fact that he is not quite so light as he used to be, he moves a very fine light tricycle, of which he is the happy possessor, very well, and the writer would not be surprised to see him undertake several rides with the Club — which he joined in 1895 — during the coming season. As a supporter of Sports he is very prominent, at least one other club besides ours receiving big prizes for competition. Our Club is happy to possess him as a member, and long may he remain with us.
George was a member of the Bristol Master Builders Association and on the 2nd of February at the annual meeting he was elected vice-president. There are numerous articles in the 'Bristol Mercury & Daily post regarding annual dinners and excursions.
George Morgan died on the 30th May 1900 at 143 Ashley Road, Bristol aged 50. His is buried at Greenbank Cemetery, Bristol.
Death of Mr G. M. Gosling
The announcement of the death of Mr G. M. Gosling, a prominent member of the Master Builders Association, will be received with deep regret by very many friends. Mr Gosling was a member of the firm of Messrs Wilkins & Gosling of Ashley road, and at the last annual meeting of the Bristol Master Builders Association he was unanimously elected vice- president of that body. His affable manner gained for him a large number of friends, while his practical knowledge of this building trade and his wide experience in commercial matters had proved of real value in the discussion of many subjects brought under the notice of the Builders Association, and his opinion invariably carried weight with his fellow members.
Bristol Mercury
June 1st 1900
Mr Gosling spent some portion of his life in South Africa and took an active part in the construction of the Railway to Kimberley. Since his connection with Mr R. R. Wilkins, as building contractors, the firm have undertaken some important works, notably the large malting house for the Bristol United Breweries, and they are at present engaged in the erection of some schools at Totterdown for the Bristol School Board. Mr Gosling was in his earlier days a member of the Bristol Engineer Corps.One of his last acts in connection with the Master Builders Association was the signing of the diplomas issued to each member. A meeting of the committee of the Builders Association was held on Wednesday evening, when the President, Mr G. Humphreys, reported the serious illness of the
vice-president, and, little thinking that his end was so near, a letter was directed to be forwarded conveying the sympathy of the members, but he expired at 11:30 the same evening, and before the letter could be sent. A circular letter has been addressed to each member of the association intimating that the funeral will be on Saturday next, at Greenbank cemetery, at two o'clock, when no doubt a large number of his fellow tradesmen and others interested in the building trade will attend as a mark of respect to one who was every ready to assist both financially and with words of valued advice any movement for the furtherance of Bristol's interest.
Following George's death in 1900, Clara moved into 2 Olveston Road while a number of the remaining properties were rented out in order to provide an income for her and the family.
Clara Matilda Gosling died on the 6th March 1924 in Bristol aged 65. She is buried at Greenbank Cemetery, Bristol.